We at Vision Institute of Technology (VIT), are working with a Mission to develop our students to allow them to prosper in their professional and personal life. Technical Education Redefined is a commitment of Vision Institute of Technology to ensure our mission is achieved by special thrust on both technology, as well as holistic development in other fields including soft skills, character development and inculcating Leadership Skills. We firmly believe that education is the bedrock to develop life skills like creativity, innovation, and the art of learning.
Digital Transformation and its impact on Education
Digital transformation is an indisputable force revolutionizing our industries, reinventing our products, redefining our services, and reshaping the way we live and work. Its impact demands a change in Education Institution and teaching practice. It shows how emerging technologies, including analytics and artificial intelligence, deliver far greater understanding of student capabilities and support new approaches to teaching and learning.
Educational Institutions around the world quickly transformed into online colleges when the pandemic hit, but as students and teachers are returning to the physical space, it is the time to see this as an exciting opportunity to fundamentally change the lives of students and shift the trajectory of your community to re-think the education system.
Today's students need real-world skills to thrive in the not-too-distant future. They must develop qualities like critical thinking, collaboration, creativity, self-awareness, self-management, responsible decision-making, and the ability to construct complex solutions. This is true regardless of subject area. Complex skills are as important for artistic, service, and human-oriented professions as they are for more scientific, technological, or industrial employment.
Need for evolution of Education
In an Engineering college, the education needs to be more fluid and the learning outcomes more agile. At VIT we constantly introspect our pedagogy as well as the skills we strive to develop in our students. It has become more relevant than ever that all engineering graduates and diploma holders have a firm understanding and know-how of technology. Today technology is both ubiquitous, and also a necessary enabler in all sectors and organizations. We cannot think of any process in sectors as diverse as Agriculture, Civil, Mechanical or Civil which are not majorly reliant on technology. C-Suites are promoting decision making based on digital analytics. Under Technical Education Redefined we identify case studies and sectors where skills in exponential technologies will be the real game changer in the coming years. We at VIT have elaborate methods to ensure all our students, even from non-tech background, get adequate exposure to these technologies.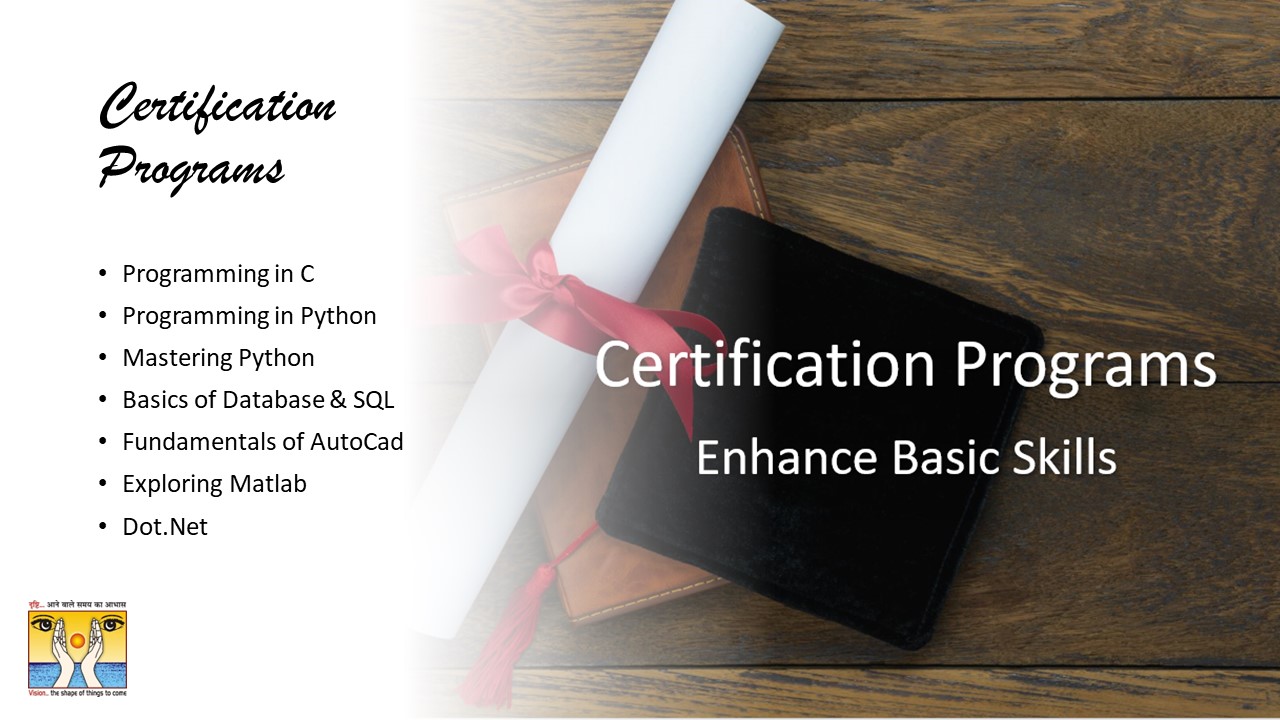 Download PPT of Technical Education Redefined
Each Program under Technical Education Redefined will be taken by a subject expert of the related program. The programs will be conducted as Lectures, Lab Sessions, Presentations, Seminars, Student Group Activities, and Projects. We will have many guest lectures from experts of the domain. Students will get certificate and suitable credit for being a part of these programs.
In the past years, the COVID-19 crisis has made clear the business imperative of making technology-driven changes, which are more ubiquitous now than ever. Various reports and research of top global thinktanks on technology and the business suggests that organizations worldwide are reporting progress on their integration of technology and business—and that these efforts were creating tangible business value across four measures, including new revenue streams and lower costs. The results also suggest that, on average, some transformation activities result in more impact than others (namely, those related to talent and capabilities). And according to the data, the companies with top-performing IT organizations have differentiated themselves from others in their efforts to create value, adopt new technologies, and bring technology and business closer together.
The aim of Technical Education Redefined is to prepare our students and to ensure they reap benefits of these changes.