School Mentoring Programs
At Vision Group of Institutions, we value students who are intellectually curious and creative, and mentor them towards attaining academic excellence. One of the biggest challenges for the education fraternity is to prepare the students for the future by introducing them to these technologies. The 21st century will involve understanding these emerging technologies and mastering the exponential skills to use them. Few Non-Cognitive skills are equally essential to nurture the child of today into a good human being of tomorrow. Human values of cooperation, compassion, empathy, fairness and concern need to be understood and appreciated by all. All educational institutes should devote energy on developing resilience, grit, persistence, self-control, curiosity, conscientiousness, critical thinking and self-confidence as constituent characteristics of our students.
As a Higher Education Institute, it is our solemn responsibility to not only contribute towards developing these in our own students, but also to assist the schools and other colleges wherever possible. The task is humongous and we all need as many resources as possible. With the same intent we are venturing out to all schools and educational institutes and assisting them in all possible ways to prepare the coming generation for the next centaury.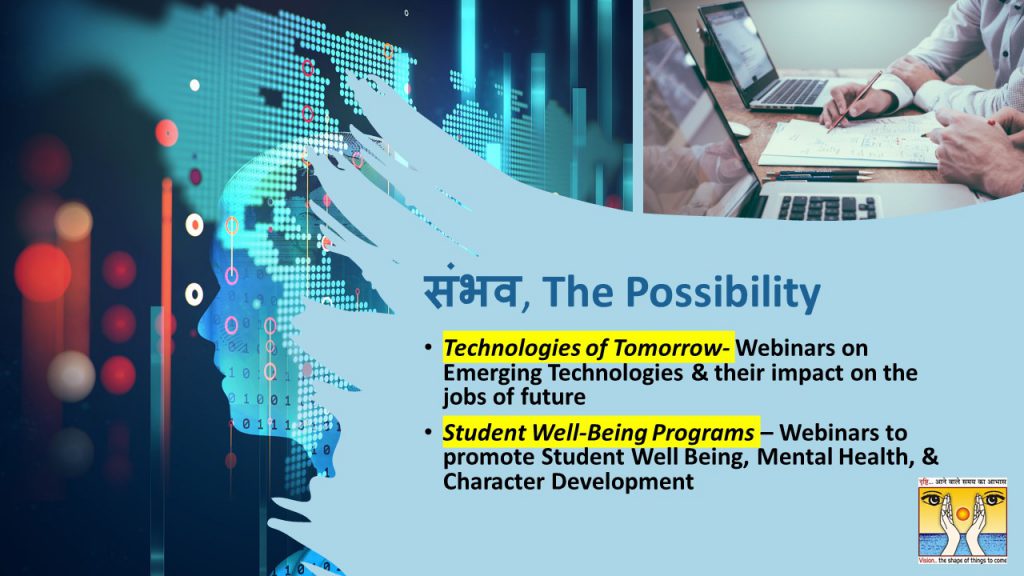 Live as if you were to die tomorrow. Learn as if you were to live…
Few ways in which are are assisting schools under SMP
Develop 21st Century Skills
Few of the most important skills of the future, which would serve as a bedrock for further development are:
Analytical Skills
Creativity & Imagination
SMP would teach students essential 21st-century skills which will help them in developing their professional and personal skills. Skilled India is the need of the hour and each step taken this dream should be welcomed and we should work towards it together for a better India.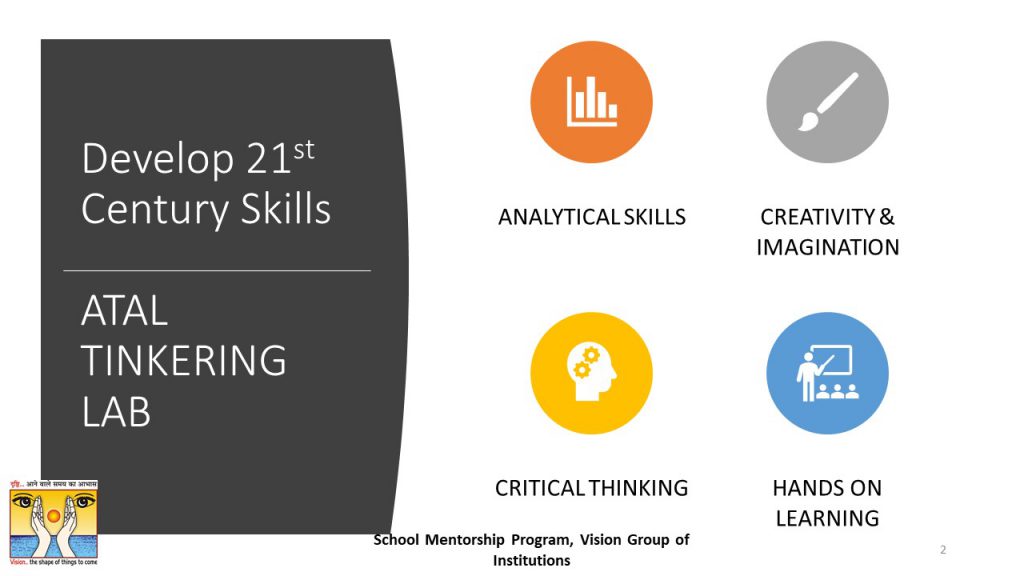 Bloom's taxonomy
Bloom's Taxonomy is a Taxonomy for Teaching, Learning, and Assessment. It is extensively used to assess the Learning Outcomes (LO) and forms an integral part of changes recommended in NEP 2020. Taxonomy is the branch of science concerned with classification. Is normally used for organisms, but here used for cognitive psychology. Cognition refers to "the mental action or process of acquiring knowledge and understanding through thought, experience, and the senses.
The Skill of Learning
Learning itself is a skill, i.e. the skill of how to learn something new. The need to learn has always been the core principles of growth and even sustenance. Advent of latest technologies and their subsequent transformation of work has highly amplified this need.
Learning itself is a skill, and perhaps this is one of the most vital skills for a student. Developing the skill of learning is a critical driver of long-term career success. People who have mastered the mindsets and skills of effective learning can grow faster than their peers and gain more of the benefits from all the learning opportunities that come their way.
Intentional learning
We need to Intentionally treat every moment as a learning opportunity. While intentional learners embrace their need to learn, for them learning is not a separate stream of work or an extra effort. Instead, it is an almost unconscious, reflexive form of behaviour.
Each of us can become an intentional learner. Experts say that there are two critical mindsets (or things you need to believe). Mindsets are powerful, often exerting tremendous influence on behaviour, sometimes unconsciously. two mindsets serve as especially powerful fuel for intentional learners: a growth mindset and a curiosity mindset.
Mindset- is a set of assumptions, methods, or notions held by one or more people or groups of people. A mindset can also be seen as arising out of a person's world view or philosophy of life.
Adopting a growth mindset
A growth mindset reiterates that you can grow, expand, evolve, and change. Intelligence and capability are not fixed points but instead traits you cultivate. A growth mindset releases you from the expectation of being perfect. Failures and mistakes are not indicative of the limits of your intellect but rather tools that inform how you develop. A growth mindset is liberating, allowing you to find value, joy, and success in the process, regardless of the outcome.
Stanford psychologist Carol Dweck's popular work on growth mindset outline the values we can gain out of adopting the same.
Feeding your curiosity
Experts have pointed out the need to develop a curiosity driven mindset as an essential base for learning. The young children must recognize that a universe is there, waiting for them to tinker and experiment without any hesitation or fear. As teachers we all realize the need to allow students to ask questions. However, it is hardly that simple. We need to foster a culture, an environment which promotes curiosity and questioning. This is one of the most fundamental aspects of NEP 2020. SMP is the primus gradus, the first step, towards developing a curiosity mindset.
Learning @ Vision Group of Institutions
At Vision Group of Institutions, we value students who are intellectually curious and creative, and mentor them towards attaining academic excellence. The emphasis is on the holistic development of the individuals. We contrive to build creativity and growth mindsets, and have taken initiatives like promoting Emerging Technologies, establishing Innovation & Research Cell, and Character and Leadership Cell to promote these.
With the same intent we are venturing out to all schools and educational institutes and promoting curiosity mindset and innovation through ATL workshops. We take this as aa a unique opportunity to not only assist but also understand the developing minds. . This will certainly be an activity where we will not only teach but also learn patterns and insights which would assist us to incorporate these skills in undergraduates too.
The Underlying message
The Underlying message in all our endeavors is to promote Innovation & Curiosity. We wish to start with the small, and yet one of the most vital steps- encouraging all students to question.
Our message is Question, question & question! We wish to communicate that Only Smart students' question! We encourage them to Ask, ask & ask. Ask your teachers, ask your friends, your parents, and always ask from yourself. The students need to be reassured that the answers are waiting for them to come and explore!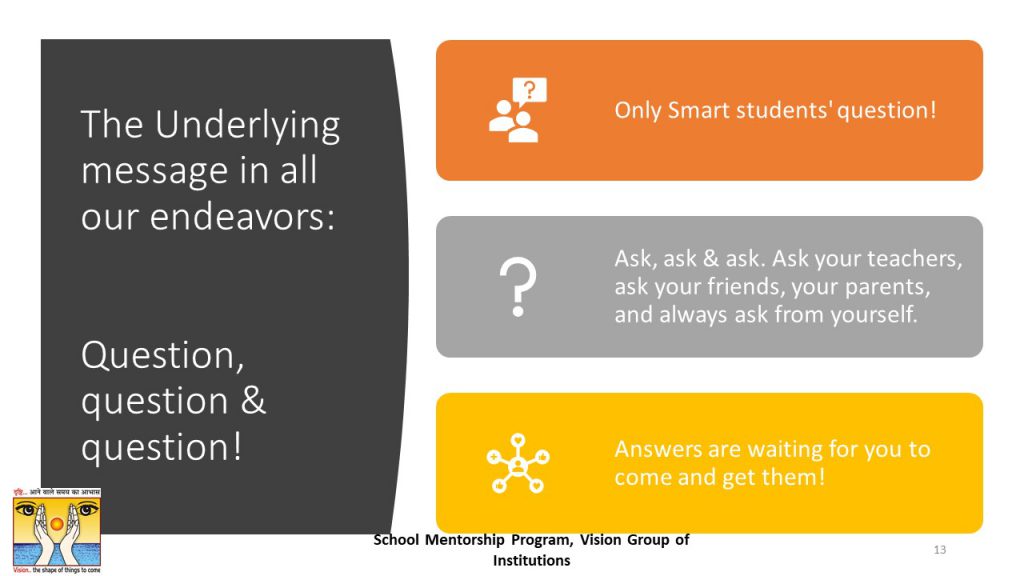 ---
Further Reading
Few vital skills of the 21st Century
Analytical Skills
Analytical skill is the ability to deconstruct information into smaller categories to draw conclusions. Analytical skill consists of categories that include logical reasoning, critical thinking, communication, research, data analysis and creativity.
Creativity & Imagination
Creativity is defined by psychological scientists as the generation of ideas or products that are both original and valuable. Creativity relies on imagination, the conscious representation of what is not immediately present to the senses.
Creativity has been accepted as a vital resource for development, innovation, and well-being of both individuals, as well as the society on whole.
Critical Thinking
Critical thinking might be described as the ability to engage in reflective and independent thinking. Critical thinking requires you to use your ability to reason. It is about being an active learner rather than a passive recipient of information.
Critical thinking has been the subject of much debate and thought since the time of early Greek philosophers such as Plato and Socrates and has continued to be a subject of discussion into the modern age.